*Year 8RB* Homework for 24/11-28/11
Go to page : 1, 2

Homework for the: 24 November 2008
What we had to do:
Geography -
Turn to Page 45 in Geography 2 book.

Look at the box at the bottom.

Answer questions 4a, 4b, 5a and 5b.
Remember: Title is "Issues to consider in food webs" and write a subtitle for each question.
Science -
Turn to Page 76.

Questions A, B, C, D, E and F.

Turn to Page 77.

Questions G, H, I, J and K.

Answers
Note:
Answers in
italic
are unsure and may be wrong.
Geography -
Issues to consider in a food web

What would happen if aphids and trees would die out
If all aphids died out then all ladybirds would too.
If all trees were cut down nothing would live in the forest (except maybe humans).
What would happen if all foxes died
The wood mouse level would increase a lot, so they will eat more seeds which means less seeds will be planted to make trees, and if there are less trees there is less of everything!
Science -
Page 76
A.
Sulphur.
B.
X
C.
Y
D.
Use a magnet.
E. Filter it.
F.
Iron Sulphide (FeS).
Page 77
G.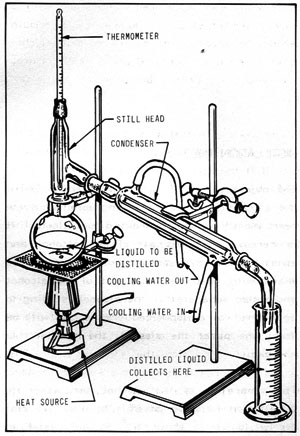 (Picture from internet more complex than the one you need).
H.
Distillation.
I.
When the liquid to be distilled is heated the water evaporates while the salt stays behind, the water vapour then goes through a condenser which condenses it back into water which falls in the beaker.
J.
Measures the temperature and blocks the way out the water vapour could take instead of the condenser's way out.
K. The salt stayed behind and so is not in the water anymore.


Last edited by Willem G. on Mon Nov 24, 2008 8:26 pm; edited 4 times in total
Go to page : 1, 2

Permissions in this forum:
You cannot reply to topics in this forum